CZ Binance Got Angry – We Will Sue Them
The Leading Cryptocurrency Exchange in the World, Binance has taken a huge move against the FUD in the Crypto Industry.
BLOCK which is one of the news sites in the crypto space recently posted a article 
The ARTICLE discussed about  a Police Raid that happened in the Binance Shanghai Office which lead to the shut down of the Shanghai Office.
Soon after this article was released, The CEO of Binance CZ was offended by this act.
He soon replied to it on twitter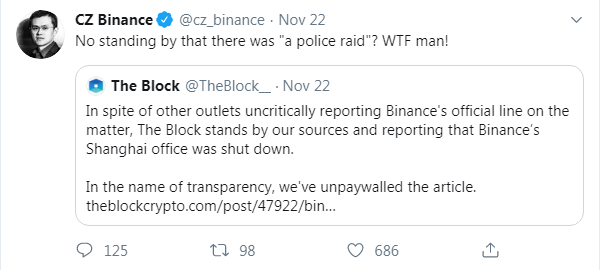 Everyone thought that this was the end but CZ went a step ahead and wanted to sue the company for their act.
They wanted to take it legally against The Block.
SOURCE HERE
DISCLAIMER:
pinoycrypto.com aggregates, filters, sorts and ranks news from the Philippines and around the globe via public news sources. All content, views & opinions shown on this website belong to the respective author unless otherwise clearly stated. The information on this site is for educational and entertainment purposes only. We do not offer any financial advice or investment advice, nor do we endorse investments into any cryptocurrencies. Please be careful and do your own research and if you see anything not correct on this website please notify us immediately using our contact form. Thank you.